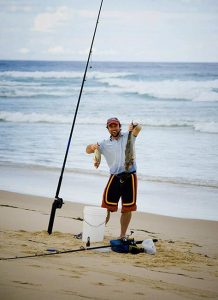 There are so many things for you to do other than just relax.
Sandpiper has a private tennis court for the use of guests. We have a large grassy areas with lots of shady trees provide spacious play areas right down to the Smiths Lake beach. Guests have a choice of gas or wood barbecues. Just ask your friendly on site managers Emmy and Don for any help or advise and they will be happy to assist.
Fishing and boating are very popular on Smiths Lake and there's a boat ramp right out the front of the complex. You can leave your boat in the water and within sight of your unit or pull it up on the beach.
If you like to sail, windsurf, stand-up paddle board, kayak or enjoy a morning swim, then Sandpiper on Smiths Lake is the place for you. The property runs right down to the edge of the lake, so no need to pack up your gear every day, just leave it right by your unit. You can also hire water craft nearby in Pacific Palms, Forster or from Frothy Coffee Boat Shed, which is a short walk just around the corner.